---
ORIENT DREAM
ORIENT DREAM is the festival of the oriental dance, music and culture of the Middle East which takes place every year as an independant and accompanying event of the Arabfest in Pilsen.
The conception of the ORIENT DREAM festival is to link up a general public, amateur and professional dance community in order to educate and to entertain. Thus the festival programme includes lectures, contest, workshops, show and other supporting programme such as e.g. bazar, exposition, discussions, etc
The aim of the ORIENT DREAM festival is to show diversity and beauty of the oriental dance at its artistic level, to familiarize a general public with different dance and music styles and so to connect lays and professionals. Therefore, guests such as professional Czech and foreign dancers are invited, completed by chosen Czech semi-professional and amateur dancers and groups.
So that our audience can see every year a varied dance and music show at a professional level that we are trying to improve from one edition to another.

We are very glad that for the past five years we have already got our own audience that comes back to see us regularly, what proves our good work
The festival is within the Czech dance community well known for its friendly atmosphere, very good organisation and keeping authenticity and a purity of the dance styles.
***
6th edition of ORIENT DREAM festival will take place on 1st-3rd May2015
CONTEST | WORKSHOPS | LECTURES | BAZAR | SHOW
SHOW
WHEN? Saturday 2nd May 2015 from 7,30 p.m.
WHERE? Cultural & Social Hall ALFA, 1st floor, Americká 17, Plzeň
On-line tickets sale: www.plzenskavstupenka.cz
or in: Dance studio GRAZIA, Havlíčkova 18, Plzeň (during opening hours)
Prices: adults 6 €, children up to 15 years 3 €
More info in programme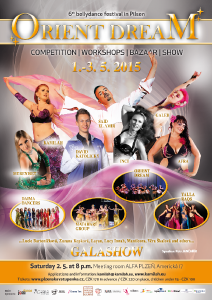 Flyer for download HERE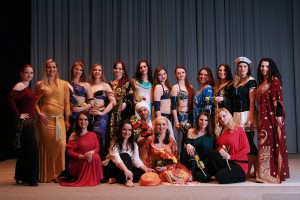 Video teaser from the 5th edition in 2014:
Photos from the 5th festival show are available HERE
Photos from 2nd Contest for the amateur group are available HERE
***
Stay tuned about all news and like also our festival Facebook page.
PILSEN promo video

*****
Our past guests : TS Aiwa! tribe, TS Ajjani, TS Alterra, TS Cekirdek, TS Daima Dancers, Eglal, Eva Procházková, Faiza, Fatima, Galeb, Hafsa, Katyia Na´Ilah, Katka Zezulková, Khalida, Layan, Lucie Bartoníčková, Lucy Innah, Maral, Míra Čipera, Mohamed Hassan, Mona, TS Orchidée Noire, TS Orient Dream, Osama Farag, Pavla Kostková, Sahar, Satine, Shareefa, Soňa Machová, Mahreen, TS MeKeBa, TS Soleila, Věra Škalová, Warda, Zuzana Kepková and others.
Sections